In modern times of technological progress, many things in people's lives have moved to a new level of development. It greatly affected businesses that constantly work with people and their operations are contingent on the security of the customers' data. In this regard, the so-called electronic documents have acquired great importance. For this type of documentation to become legal and gain legal force, they must have an electronic signature that certifies the authenticity.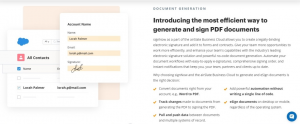 An electronic digital signature is needed primarily to protect a document stored on a computer or other medium. It is a digital equivalent or a copy of a conventional handwritten signature required to confirm or certify certain documents.
It is worth remembering that e-signature is not an object that you can touch. It is a specific modern technology, the electronic details of the document (transmitted in digital format: by e-mail, on a memory card, through the feedback form on the portal of public services, etc.), which allows you to confirm the author of the document.
Thanks to cryptographic encryption algorithms, the signature is associated with the author and with the document itself. Such a signature acts as a means of confirming the accuracy of the information and prevents third parties from changing the information provided in the sent files. An electronic signature is convenient, secure, and no less legitimate than a regular ink signature on a paper document.
The Principle of Digital Signature Technology
Data encryption involves the use of private and public keys at the same time. The technology itself is implemented based on a complex of digital signature components. Keys are linked by a mathematical relationship – a cryptographic transformation of information. This technology provides the highest encryption security for your data. Even if the data is intercepted, it becomes impossible to decipher. An electronic signature excludes the possibility of redirecting a document to a third-party resource.
The digital signature is applied using the private key and verified with the public key. A private key is a unique combination of characters used to generate each electronic signature. The user can store the private key on their personal computer, protecting it with a password. The public key is known to all users of the system and is required to verify the electronic signature. With its help, the recipient of the document establishes the authorship and the invariability after signing.
Characteristics of e-Signature
An electronic signature has a specific scope of use;
has a sign of legal significance;
verifies (confirms) the data contained in the document;
acts as a security mechanism.
Electronic signatures confirm three types of data:
data about the signer;
data on the fact of making or not making changes to the document;
legal impossibility to deny the fact of sending a certified document.
Currently, there are three types of electronic signatures – simple or basic electronic signature, advanced digital signature, and qualified advanced digital signature. Getting the first one is free, while other types of electronic signatures you can create using special service providers like SignNow. They provide a service that meets the highest security standards and ensures that your documents are signed, transferred, and stored with multiple layers of protection.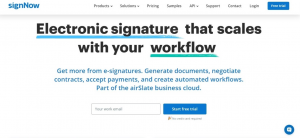 Areas of Use of Digital Signatures
It is impossible to keep up with the trends in business and entrepreneurship without an electronic digital signature. You will need it to quickly and easily submit reports, remotely participate in auctions and tenders. An electronic signature allows you to control the authenticity of the information ensuring the integrity of electronic data.
E-signatures are a popular technology among many spheres and customers:
big companies and small enterprises of various forms of ownership;
individual entrepreneurs;
individuals
Doing business in modern realities implies electronic document flow and, as a result, the use of a digital signature. It facilitates the management of all processes in the company, boosts your workflows and team productivity.
Many entrepreneurs do not know what to consider when choosing an electronic document management service for their business. First of all, it is worth focusing on the individual needs of the company and its capabilities. But do not forget about such parameters as:
system security level;
responsive customer support;
usability (design and interface);
compatibility (users can work with documents from any device and at any time);
service cost;
opportunities for signing (team signing, etc.).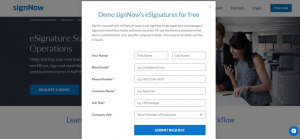 To find the most convenient service, take advantage of the free trial period provided by many reputable and trusted e-Signature providers. For example, by choosing the Free Trial, new signNow users will be able to sign and process documents for free using the full functionality of the service.
Their integrated solution for creating and managing complex eSignature workflows completely replaces the traditional signing of documents. The service works with any device and operating system and can be easily integrated with a wide range of business apps – Google Drive, Salesforce, Oracle, and many others.