INTERVIEW ON THE PRICE OF BUSINESS SHOW, MEDIA PARTNER OF THIS SITE.
Recently Kevin Price, Host of the nationally syndicated Price of Business Show, interviewed Marques Ogden.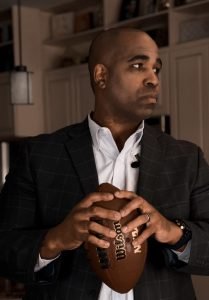 Former NFL offensive lineman, turned business man and motivational speaker, Marques Ogden joined Kevin Price and Chris Kidd on the Price of Business Show to discuss dealing with adversity and change. Marques shared stories from his own struggles that he has encountered in life and what he advises others who are dealing with their own challenges. He recounts the feeling of building a very successful business and then losing it in a matter of months, then hitting rock bottom and starting over with a janitorial job. Ogden talks about his new found success as a best-selling author, executive coach, and keynote speaker.
A little background about Marques, in 2003, he was drafted into the NFL as an offensive lineman, after 5 years of playing in league, he decided to retire and pursue a career in construction and contracting. At the age 27, Marques founded a construction company called Kayden Premier Enterprises. The company had fast growth in 2010, but eventually his business went bankrupt, losing almost 2 million dollars on one project in a matter of 90 days.
During his darkest hours, he pulled himself together, got a part-time job as a custodian and with hard work and determination became an inspirational keynote speaker, executive coach, best-selling author and marketing leader, helping to build the success of others.
LISTEN TO THE INTERVIEW IN ITS ENTIRETY HERE:
The Price of Business is one of the longest running shows of its kind in the country and is in markets coast to coast. The Host, Kevin Price, is a multi-award winning author, broadcast journalist, and syndicated columnist. Learn more about the show and its digital partners at www.PriceofBusiness.com (scroll down to the bottom of the page).